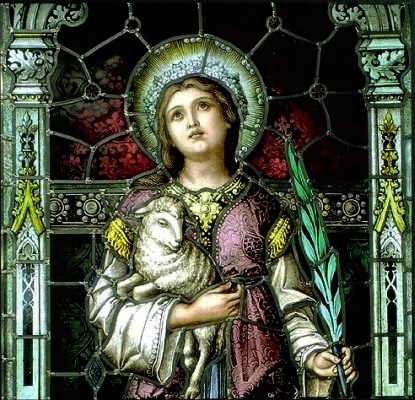 According to tradition, Saint Agnes was a member of the Roman nobility born c. 291 and raised in a Christian family. She suffered martyrdom at the age of twelve or thirteen during the reign of the Roman Emperor Diocletian, on January 21 304.
The Prefect Sempronius wished Agnes to marry his son, and on Agnes' refusal he condemned her to death. As Roman law did not permit the execution of virgins, Sempronius had a naked Agnes dragged through the streets to a brothel. As she prayed, her hair grew and covered her body. It was also said that all of the men who attempted to rape her were immediately struck blind. When led out to die she was tied to a stake, but the bundle of wood would not burn, whereupon the officer in charge of the troops drew his sword and beheaded her, or, in some other texts, stabbed her in the throat. It is also said that the blood of Agnes poured to the stadium floor where other Christians soaked up the blood with cloths. She did not want to marry but wanted to have God in her life.
A few days after Agnes' death, a girl named Emerentiana was found praying by her tomb; she claimed to be the daughter of Agnes' wet nurse, and was stoned to death after refusing to leave the place and reprimanding the pagans for killing her foster sister. Emerentiana was also later canonized.
Agnes' bones are conserved in the church of Sant'Agnese fuori le mura in Rome, built over the catacomb that housed Agnes' tomb. Her skull is preserved in a side chapel in the church of Sant'Agnese in Agone in Rome's Piazza Navona.
An early account of Agnes' death, stressing her steadfastness and virginity, but not the legendary features of the tradition, is given by Saint Ambrose.